Sikkens Wood Care Finishes, for log homes and decks MD, VA, WV
See Dirt Run!™ Inc. is proud to offer the Sikkens line of products. While they are not inexpensive, these coatings are among the best in their class in the coatings market today. Sikkens is owned by Akzo Nobel, a multi-billion dollar coatings company that has provided innovative coatings technology for many years. The products are VOC compliant in all 50 US States including the Northeast Corridor and California.
Only tinted sealers (containing pigment that gives them color) offer UV protection for your wood. For this reason we only suggest using tinted sealers or solid stains for your exterior wood. Clear sealers (water clear) are not recommended, and will not offer you the level of protection found in tinted sealers and solid stains.
Why don't we list other products typically seen in stores or mentioned by contractors? Because we're very particular about the products we use. We suggest only those products that we have seen stand the test of time and meet our own criteria for durability. We've tried and tested many products and believe these to be the top products available on the market today. Do you have questions? We would love to answer them for you, and look forward to meeting with you to discuss them during our visit to provide you with an estimate.
To view examples of these products applied to various species and ages of wood, visit our photo and video gallery.
Sikkens Cetol SRD Colors:
This penetrating oil is excellent for PT lumber, Cedar and Redwood. With proper preparation it may be applied to hardwoods such as Ipe or Teak. Click here to view and print the Sikkens Cetol SRD Brochure.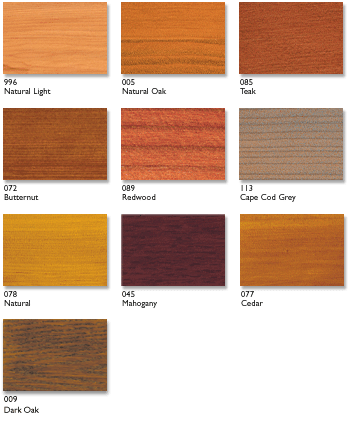 Sikkens Cetol Log & Siding:
Cetol Log & Siding is an excellent choice for the exterior of your Log Home. Cetol Log & Siding seals, protects and provides an excellent two coat layer of protection, Cetol Log & Siding contains a special inhibitor to protect against harmful UV rays. Click here to view and print the Sikkens Cetol Log & Siding Brochure. If you currently have this product installed on your log, cedar or redwood home you will want to learn about Cetol Maintenance.