Cedar Home Maintenance & Redwood Siding Care Low Pressure Washing Cleaning, Stripping, Repairs, Sealing in MD, VA, WV
Cedar and redwood sided homes are special, and require certain kinds of care, in order to clean, restore, and protect them. Accordingly, cedar and redwood home maintenance washing and sealing are services we are proud to offer. See Dirt Run!™ specializes in wood restoration, and we have worked on a variety of common and exotic woods alike ranging from pressure treated pine, to cedar and redwood, to ipe and more. Additionally, we offer full service restoration and cob blasting on log homes.
Not all woods should be cleaned using the same methods. Consumers need to know that there are correct and incorrect methods. It's important that cedar and redwood siding, as well as cedar shingles and shakes are cleaned using a two step method prior to sealing the wood with a semitransparent oil based finish. Special techniques are necessary for cedar and redwood home maintenance because the wood is soft and can easily be damaged.
Professional Washing, Sealing & Repairs for Cedar & Redwood Homes
Using a two step method to clean and restore the cedar brings the pH of the wood back into balance prior to sealing. When performing cedar home maintenance, balancing the pH allows for both better adhesion and performance of the finish being applied to the home. Wood moisture content should also be checked prior to applying the finish when these services are performed.
What's the wrong way to wash cedar or redwood? Actually, high pressure washing alone is the incorrect way to clean or restore cedar or redwood siding on any home. Lower pressure when washing cedar or redwood along with the correct cleaning solutions yields the best results for these softer woods. Importantly, it's the correct way to perform cedar home maintenance.

Cedar Home Stripping

Can anything strip the solid stain off of my cedar or redwood home? YES! Most pressure washing companies clean decks, but are inexperienced when it comes to stripping solid stain off of the cedar or redwood siding, cedar shingles or shakes found on homes.
Specific products and methods should be used to remove old failing finishes. However, high pressure washing alone is never advised. Our practice is to use low pressure washing with our stripping agent. Next, we balance the pH of the cedar or redwood by neutralizing it, which also brightens the wood.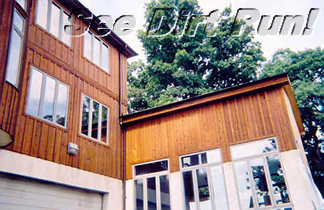 Your home and the surrounding areas will be meticulously cared for during the restoration process. See Dirt Run!™ uses job appropriate equipment, taking great care to mask up all doors and windows when sealing. Carefully, we'll cover any plants and grass in the work area. We'll care for your property as if it were our own! Click the link to view our work on a client's cedar home.
Our Log Home Chinking & Energy Sealing Service Areas
So you say you are not located in Maryland? We also work out of state offering services in the following areas: Maryland (MD), Virginia (VA), West Virginia (WV), Delaware (DE), Pennsylvania (PA). We will consider traveling to other areas on a project by project basis for log home blasting and other services.