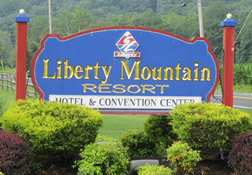 See Dirt Run! ™ Inc. of Germantown, MD., restore log home styled facility at Boulder Ridge lodge, Ski Liberty Mountain Resort in Pennsylvania.
See Dirt Run!™ Inc. restores popular winter tubing resort destination and summer wedding facility Boulder Ridge Lodge at Ski Liberty Mountain Resort in Pennsylvania.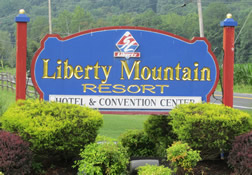 Germantown, MD – July 29, 2014 See Dirt Run!™ Inc. of Germantown, MD, a local power washing company specializing in high end wood restoration and wood preservation of log homes and decks, completed a large log home styled commercial resort facility using a multi-step log home restoration process in July of this year, in Pennsylvania. Rod Rodriguez, President and Beth Borrego, Vice President of Maryland based company See Dirt Run!™ Inc. were contacted back in 2012 regarding the job, but due to the popularity of the venue and the amount of time needed to complete the restoration the work could not be scheduled until summer 2014 due to weddings at the facility.
The log home styled lodge was chemically stripped to remove no less than three coatings that had been applied over the years. The wood was meticulously prepped to ensure the best adhesion and caulking and full log checking filling was completed. Due to the severity of the winters at the resort, Perma-Chink's Ultra 7 in Almond was selected to be installed along with a satin top coat. A primer was also installed. Rod Rodriguez, President of See Dirt Run!™ Inc. led the project team. A representative from Perma-Chink Systems visited the facility to see the project and to meet the project manager at Ski Liberty.
See Dirt Run!™ Inc. is an active certified member of PWNA, a member of the Better Business Bureau with an A+ Rating, the Chamber of Commerce, and operates under MHIC License #86481 and VHIC# 2705 126609. They have been in business since 1999. Interested parties should contact the office at 302-540-1243. They offer services specialized to restore log home. If you are looking for services to restore log home contact our office today.