Log Home Interior Stain, Sealing, Log Cabin Interior Finishing, Refinishing, Restoration Sanding MD, VA, WV, PA, DE
The interiors of log homes and log cabins need special care, maintenance as sometimes restoration work performed on them if they are from a historic era such as the 1700's or 1800's. Regardless of their age, all log homes and cabins need a specially formulated log home interior stain or sealer applied to them. Newer homes may need to be hand cleaned on the interior from time to time. Occasionally there may be a coatings issue involving removing the finish or stain in part or altogether to restore the logs beneath the coating. Many of today's log homes and log cabins are chinkless, but older historic log homes and log cabins from circa 1700 or 1800 have chinking made from mortar and other substances. Chinking removal or chinking repair work for log homes may need to be performed to correct a variety of problems that may effect your logs. Your home should be inspected for signs of rot, and decay and treated if necessary at that time. If you own a home built prior to 1978 you need to read Renovate Right to learn about the potential hazards of lead paints in your home.
But older log homes and log cabins are not the only ones that require attention. Some log home owners do noting to the interior logs to protect them from UV damage, mistakenly thinking that they will not suffer from UV exposure. This is not true. It's important to have a log home interior stain or sealer applied to the logs. Many log homes have great rooms with large glass windows and doors that allow sun to come streaming in onto the logs. Over time, the wood will begin to gray. Also, bare wood in the kitchen is subject to both moisture and grease. Exposed bare logs in the bathroom offer an environment that is perfect for mildew infestation so set in on the logs. Sometimes log home owners will purchase an inappropriate clear finish from a hardware store and apply it. While this does offer some protection to the interior logs, it may leave an unsightly halo when the coating yellows and the log home owner goes to move a wall hanging, creating the need for refinishing. Applying a clear finish that offers UV protection without yellowing the logs is important to most owners and also to prospective buyers, who should look behind wall hangings when walking through a home.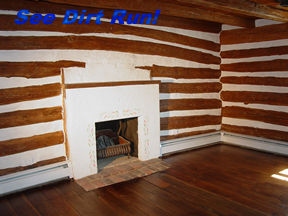 Interiors of log homes that require restoration need specialized care and methods to restore them properly. Many older log homes are coated with paint, because homeowners did not know what else to do. Painting logs creates a set of problems for log homes and cabins that owners of conventional vinyl or brick homes don't face. When wood is painted you increase the risk of rot infesting the wood. Removing the paint to take care of these types of issues is suggested. A log home interior stain or sealer should be used to replace the paint. It goes without saying that the exteriors of these log and wood sided homes require protection from the elements as well. Levels exceeding 20% WMC is where rot can begin to set in. Owners of log homes are faced with the challenges of maintaining and restoring their homes. We service Maryland, Virginia, Pennsylvania, Delaware, New Jersey, West Virginia, North and South Carolina, Florida, Ohio, and Louisiana. Travel outside of these areas will be determined on a per project basis.
Log home manufacturers recommend that the exterior and interior be inspected at least once a year. It is also recommended the the interior logs be coated with a log home interior stain or sealer. Areas around fireplaces, apexes on the roof and eves, corners, doors and windows including dormer style extension windows, sinks, tubs and plumbing, built on decks and stair ways can develop problems from use and settling. Exposure to the elements causes cracking and leaks that need to be sealed early to avoid the exposure to moisture which promotes rot and decay. Many home owners do not want a color on the interior log, and a log home interior stain is often semi-transparent so you can still see the wood. Clear sealers are also available with added UV protection to protect against yellowing. Interior wood can grey from UV exposure too, which is why a log home interior stain is important, and protects your logs.
The process involved in restoring the interior of a newer or historic log home is very demanding of attention to detail. From the corn cob or glass bead blasting phase to the masking and caulking or chinking phase, the borate or epoxy filler phase, or the log defelting, buffing and sealing phase, the end result and duration of the job will depend on how well all of these phases were conducted. The integrity of your logs must be maintained in order to avoid costly replacement. And of course, the proper installation of a log home interior stain or sealer on freshly prepared logs is very important.
If you are in need of specialized interior maintenance or restoration for you log home or cabin, call See Dirt Run!™ Inc. We can help! To view more beautiful examples of our work as well as video testimonials from some of our clients, visit our photo and video gallery today! We're glad to help you with any questions about log home interior stain or sealers.