We love the new rails!

Give your porch that special look....

This exciting transformation
adds value to your home!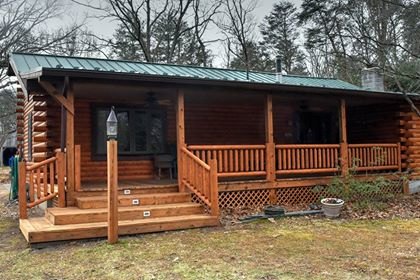 Such a perfect compliment for this stunning home!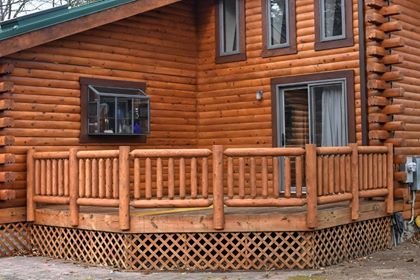 Such an inviting entry!

Beautiful! Just beautiful!

Cedar log rails are just beautiful!

Beautiful any time of year!
Cedar Log Deck Railing for Decks & Porches, Installation in MD, VA, WV
Log homes have a style and flair all their own. Standard deck rails are practical but don't provide the continuity in the look many log home owners prefer. Northern white cedar log rails are an excellent choice for decks, porches, and interior stair systems. Cedar is naturally resistant to rot and decay making it a versatile building material. Upgrading your existing rail system to a Rocky Top log rail system provides for a dramatic new look you'll enjoy for years and adds to the value of your home. Cedar log rails are the perfect compliment for today's log homes. If you're interested in cedar log railings give us a call.
These beautiful white cedar log rails come in three textures, to compliment the exterior of your home. Each rail system is custom made to order specifically for your home, which means this process takes time to complete.
| | | |
| --- | --- | --- |
| | | |
| cedar log deck railing Sanded Smooth | cedar log deck railing Hand Hewn | cedar log deck railing High Country |
There are also different styles of railings to choose from. Which one best compliments your home?
Standard Rails

Lodge Rails

Mountain Timber

Two Rails

Three Rails
Are you interested in upgrading to cedar log deck railings from an existing exterior or interior railing system? Contact our office today. We'll be glad to help you transform your rails to give your log home look you've dreamed about. Once they are installed we'll seal them with a finish to match your home and protect your new railings for years to come.

Save
Save