Log Home Care, Maintenance Washing & Sealing MD VA PA WV DE
Over the years, styles of homes exteriors have changed and have progressed to what we all live in now which ranges from brick, stucco and dryvit, wood siding, aluminum or vinyl siding, composite or butler stone facade. But nothing ever seems to compare with the look, feel and warmth of a log cabin or home. Commonly built with extravagant fireplaces, they have been the essence of many romantic stories, getaways, seclusion and inspiration. Log home care and maintenance is an important part of protecting your dream home. All log homes get dirt. Click the the video below and then view it full screen to see how our safe, gentle methods at work.
Like any home, maintenance for the exterior logs helps to protect the coating you had installed on your cabin. Today's log homes are built from many species such as cedar, pine, spruce, oak and cypress. During construction the logs are moved on-site via truck.

Too often the logs sit uncovered and exposed to weather and rain. Requiring protection from the elements, the exteriors of these log homes are going to need ongoing maintenance. Most especially, over time they're going to need protection from rot and decay.

Levels exceeding 20% WMC is where rot can begin to set in. Owners of log homes are faced with the challenges of maintaining and restoring the wood as needed. If neglected, this may mean having the home or cabin corn cob or glass bead blasted, or chemically stripped and pressure washed , depending on the logs. These are just some of the reasons why log home care and maintenance is so important.
Scheduled Log Home Maintenance Washing & Sealing
If routine log home care and maintenance and upkeep are performed on a regular schedule it is better for the logs. Maintenance includes lightly washing the logs, applying maintenance coats of the sealer or stain currently installed on the logs, and maintaining the caulking or chinking on the log home to prevent moisture and unwanted weather from entering the interior or becoming trapped in the logs. A borate treatment may also be advised, but may only be applied to bare wood. Log home care and maintenance and restoration is our specialty.

Log home manufacturers recommend that the exterior and interior be inspected at least once a year. Areas around fireplaces, apexes on the roof and eves, corners, doors and windows including dormer style extension windows, sinks, tubs and plumbing, built on decks and stair ways can develop problems from use and settling. Exposure to the elements causes cracking and leaks that need to be sealed early to avoid the exposure to moisture which promotes rot and decay.
Log Home Maintenance Helps Protect Against Rot & Decay
On areas with evidence of rot from high moisture content, a borate treatment helps to inhibit further rot and insect attack. If the rot has progressed far enough, it may need to have an epoxy curative and filler applied to the effected area before sealing. Applying an acrylic or oil based sealers provides the protection necessary for the wood to endure the outdoor climate. Clearly, protecting your log home exterior from a harsh climate is important. Never skip your maintenance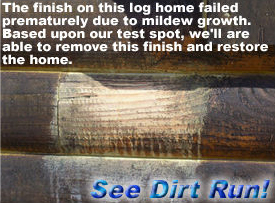 The process involved in restoring a log home is very demanding of attention to detail. From the cob blasting or pressure washing phase to the masking and caulking/chinking phase, the borate/epoxy filler phase, or the log buffing and sealing phase, the end result and duration of the job will depend on how well all of these phases were conducted. The integrity of your logs must be maintained in order to avoid costly replacement.
If you are in need of specialized care for you log home, call See Dirt Run!™ Inc. We can help! To view more beautiful examples of our work as well as video testimonials from some of our clients, visit our photo and video gallery today! Contact our office today to learn more about log home care and maintenance for your home.
Our Log Home Maintenance Service Areas
So you say you are not located in Maryland? We also work out of state offering services in the following areas: Maryland (MD), Virginia (VA), West Virginia (WV), Delaware (DE), Pennsylvania (PA). We will consider traveling to other areas on a project by project basis for log home blasting and other services.