See Dirt Run! ™ Inc. of Germantown, MD., participates in The Log & Timber Home Show
See Dirt Run! ™ Inc. participates in The Log & Timber Home Show in Chantilly, VA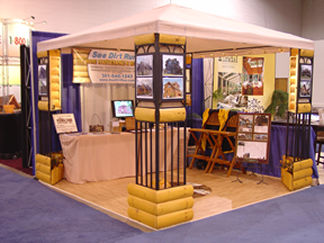 Germantown, MD – October 26, 2007 See Dirt Run!™ Inc. of Germantown, MD, a local power washing company specializing in wood restoration and wood preservation, participated in The Log & Timber Home Show held in Chantilly, Virginia from October 26th through the 28th, 2007.
See Dirt Run! ™ Inc. exhibited in a 10×10 booth custom built by the owners for the event. Information about pressure washing, chemical stripping, cob blasting, staining and sealing and chinking log homes was available for attendees. Samples of work were available and on display for home owners. Both Roderick Rodriguez, President, and Beth Borrego, Vice President were available for consultation during the event�s show hours.
See Dirt Run! ™ Inc. is located in Germantown, MD., and has been in business since 1999. The company specializes in wood restoration and preservation, and is an active certified member of PWNA. See Dirt Run!™ Inc. is also a member of the Better Business Bureau, and operates under MHIC License #86481.