See Dirt Run!™ Inc. of Germantown, MD., published in Country's Best Cabins Magazine, Cozy Cabins 2011 Ultimate Cabin Guide.
See Dirt Run!™ Inc. Vice President Beth Borrego appears in article entitled "Tips For Fixing Up An Old Log Cabin" published Nationwide in March 2011.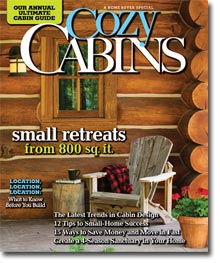 Germantown, MD – March 22, 2011 Beth Borrego, Vice President of Maryland based company See Dirt Run!™ Inc. was contacted back in December 2010 by Country's Best Cabins Magazine and was interviewed for an article on log cabin maintenance and restoration for the magazine's upcoming Cozy Cabins issue. Borrego is quoted throughout the article appearing on pages sixteen through nineteen. See Dirt Run!™ Inc. of Germantown, MD, a local power washing company specializing in high end wood restoration and wood preservation, has been restoring and maintaining log homes since 1999.
The article focuses on maintenance and restoration issues that all log home owners should be aware of, but is geared towards those considering older homes. Mark Elliott, the Vice President of Coventry Log Homes and John Ricketson, Project Manager for Hearthstone log homes were also mentioned in the article. Beth Borrego and Rod Rodriguez, President of See Dirt Run!™ Inc. have also been featured in an article on log home maintenance and restoration in Cleaner Times Magazine, and Borrego has been contributing author for several years.
See Dirt Run!™ Inc. is an active certified member of PWNA, a member of the Better Business Bureau, the UAMCC, the Chamber of Commerce, and operates under MHIC License #86481, VHIC# 2705 126609. Interested parties should contact the office at 302-540-1243.
Country's Best Cabins is one magazine in a family of publications serving the log home and timber frame home industry.