See Dirt Run! ™ Inc. of Germantown, MD., honored by Talk of the Town with Fifth Consecutive Five Star Award in Maryland for Exterior Home Cleaning Pressure Washing Reviews 2014.
See Dirt Run! ™ Inc. was again selected as the top rated company for the fifth consecutive year in the Exterior Home Cleaning category for services performed during the year of 2014.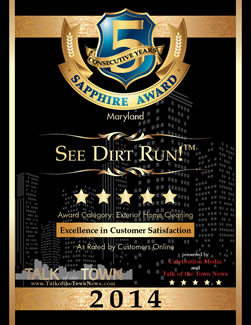 Germantown, MD – March 1, 2014: Five Star Award 2014 Talk of The Town – 
Talk of the Town honors companies that consistently receive excellent reviews by consumers, looking at various sources for Annual Reviews. See Dirt Run!™ Inc. of Germantown, MD. received five star ratings for the 2010, 2011, 2012, 2013 and again in pressure washing reviews 2014 earning them the Exterior Home Cleaning Award for five consecutive years in a row. Earning this award for five consecutive years has earned See Dirt Run! Inc. the Sapphire award for excellence. See Dirt Run!™ Inc. cleans many different types of residential exteriors, such as vinyl, aluminum, brick, stone and stucco, but specializes in log cabins and homes, and cedar homes. The company also cleans decks, fences, deck furniture, and offers a full range of sealing and restorative services. See Dirt Run!™ Inc. is an active certified member of PWNA, a member of the Better Business Bureau with an A+ Rating, the Chamber of Commerce, and operates under MHIC License #86481 and VHIC# 2705 126609. Interested parties should contact the office at 302-540-1243. For more reviews please refer to the pressure washing reviews 2014 page for photos and quotes, and video testimonials.