Deck Cleaning – Pressure Washing and Sealing Wood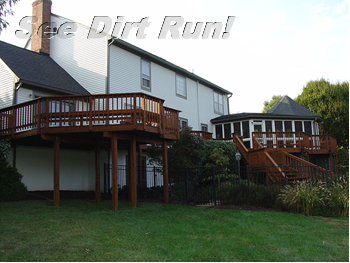 Whether your deck is old or brand new, it needs protection from water and weather. Trouble can start the day you finish building a deck. What many home owners don't know, is that the treatment given to about 80% of the pressure treated wood used to build decks, is to help prevent against rot and termites. Pressure treating wood offers no protection from the weathering process. In fact, pressure treating wood makes the wood more porous and susceptible to moisture damage.
Pressure treated lumber contains CCA (arsenic) which has been found by the EPA to be a health hazard. Properly cleaning and sealing decks, playsets, and other wooden structures helps to protect consumers against exposure to CCA.
Redwood decks and cedar decks need protection too, since much of the wood used in construction today is from younger, second growth trees which have a higher sapwood content and are less resistant to biological enemies. For the best results, mill glaze should always be removed from new wood.
We also have experience with the more exotic woods such as Ipe, Teak, Balau, Brazilian Redwood, Pau Lope, Cambara, Mahogany, and Walnut.
Cleaning your deck or fence to remove the graying, dirt, mold and mildew is an important part of protecting your investment. Your deck is a part of your home's value and appraises with your property. It's important to be informed on the latest wood care practices in the industry. We'll be glad to take the time to meet with you and to go over the correct and incorrect methods of properly cleaning and sealing your exterior wood. To see how others feel about our services, click here for a client video testimonial.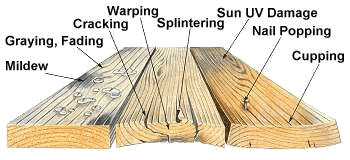 Once cleaned, decks, fences and other wood needs to have about 12% to 19% wood moisture content to be properly sealed, depending on the sealer that is being applied. This doesn't translate into a specific number of days or hours between visits, as it is contingent upon Mother Nature. We use a moisture meter to ensure the conditions are right for sealing your deck or other wooden items, and we monitor the weather forecast closely.
What happens if you don't put sealant on your deck? Rain, morning dew, and even melting snow are quickly absorbed by the unprotected wood, causing it to swell and soften. The suns heat causes drying, this makes the wood shrink. These cycles of wet and dry, swelling and shrinking, cause wood to warp, split, crack, and check. This causes wood to have a shorter life span, needing expensive repairs, or replacement. This is why we recommend sealing your deck with a tinted sealer or stain once it has been washed.
Pressure washing your home's brick or siding is equally important, as are other wooden items such as decks, fences, furniture, gazebos, wood homes and playground equipment.
Our service area includes: Alexandria, Annandale, Arlington, Ashburn, Ashton, Aspen Hill, Barnesville, Beallsville, Bethesda, Boyds, Brinklow, Brookeville, Brunswick, Burtonsville, Cabin John, Chantilly, Chevy Chase, Clarksburg, Colesville, Columbia, Damascus, Darnestown, Derwood, Fairfax, Falls Church, Frederick, Gaithersburg, Garrett Park, Germantown, Glen Echo, Great Falls,Hampstead,Herndon, Kensington, Kentlands, Laytonsville, Leesburg, Mount Airy, Montgomery Village, McLean, New Market, North Bethesda, North Potomac, Oakton, Olney, Poolesville, Potomac, Reston, Rockville, Sandy Spring, Silver Spring, Spencerville, Sterling, Takoma Park, Urbana, Vienna, Washington Grove, West Bethesda, Westminster, Wheaton, Woodbine