Corn Cob and Crushed Glass Blasting Log Homes & Log Cabins
For log homes and log cabins, both corn cob and crushed glass blasting are an environmentally sound alternative approach to wood restoration involving high pressure air and biodegradable corn cob or crushed glass media available in different grit sizes. Crushed glass and corn cob are used to remove surface deficiencies found on aged wood and even to remove or strip old or unwanted coatings, sealers, stains and paints without the use of chemicals and chemical stripping that may not be suitable for use on some log homes and cabins exhibiting certain conditions. Chemical stripping is a part of pressure or power washing, and is suitable for log homes and log cabins under certain conditions.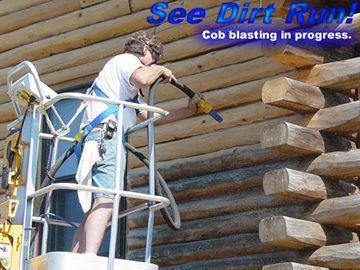 Specifically, corn cob or glass bead blasting acts like a sander with a different effect on the wood and is often used on neglected log homes and log cabins that may be candidates for rot and further deterioration from the introduction of water and chemicals from pressure washing. The circumstances requiring the cob or crushed glass blasting process can be determined upon our inspection and evaluation of your log home, cabin or faux log wood siding. Contact our office for further details.
So you say you are not located in Maryland? We also work out of state offering services in the following areas: Maryland (MD), Virginia (VA), West Virginia (WV), District of Columbia (DC), Delaware (DE), Pennsylvania (PA), New Jersey (NJ). We will consider traveling to other areas on a project by project basis.
This text will be replaced

Once the log home or cabin has been corn cob or crushed glass blasted, the logs are immediately ready for the next step in your project. Since both corn cob blasting and crushed glass blasting are dry processes, there is no waiting for the logs on your home or cabin to dry out like there is with pressure washing or power washing.

All log home restoration and maintenance projects have multiple steps that may include the following: cob or glass blasting, power washing, chemical stripping, low pressure maintenance washing to removing mildew, algae or fungus, buffing or sanding, chinking repair or replacement, caulking or energy sealing, check filling, installing log home gasket tape, grip strips or backer rods, installing multiple coats of a sealer or stain.