Cedar Deck Care and Maintenance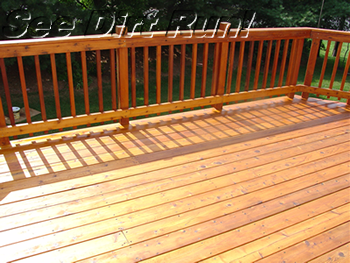 Cedar comes in varying colors ranging in light yellow to pale brown, reddish or pinkish brown to dull brown, with sapwood that can be nearly white. These variations in color make cedar a popular choice for use in decks and gazebos.
Some species of cedar are aromatic or spicy in odor. Species of cedar native to the United States include: Atlantic White, Eastern Red, Incense, Northern White, Port-Orford, Western Red, and Yellow. Most importantly noted about the cedar species is that they can be naturally very resistant to decay making them a conscientious alternative to pressure treated wood. While more expensive than pressure treated wood, the look, feel and smell is quite attractive to enthusiasts of out-door living. However, today's cedar is harvested from younger growth trees, making the lumber less resistant to insects, rot and decay than more mature growth trees.
Regarding maintenance care, this species requires a knowledgeable approach. Being a soft wood species, it can easily be damaged. When cleaning cedar, power washing by inexperienced or untrained personnel can create a condition in the wood that may be very costly to correct or replace.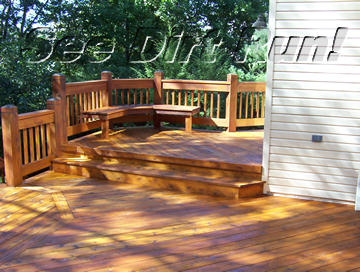 Sealing cedar may only be done once it has been properly prepared. Failing this, the results tend to be unsightly and undesirable, as well as potentially be irreversible. Why? If not properly performed future cleanings will be more difficult and costly in order to obtain the desired results. Consumers also need to be aware of the VOC changes that went into effect in 2005. These changes have had an impact on the coatings industry, and on product performance.
A deck is part of the assessed value of your home. The care put into it will reflect on its appearance, longevity and future assessed value. We have the future of your wood in mind. When you need a knowledgeable and experienced provider for your cedar care, call See Dirt Run!™ Inc.
Our service area includes: Alexandria, Annandale, Arlington, Ashburn, Ashton, Aspen Hill, Barnesville, Beallsville, Bethesda, Boyds, Brinklow, Brookeville, Brunswick, Burtonsville, Cabin John, Chantilly, Chevy Chase, Clarksburg, Colesville, Columbia, Damascus, Darnestown, Derwood, Fairfax, Falls Church, Frederick, Gaithersburg, Garrett Park, Germantown, Glen Echo, Great Falls,Hampstead,Herndon, Kensington, Kentlands, Laytonsville, Leesburg, Mount Airy, Montgomery Village, McLean, New Market, North Bethesda, North Potomac, Oakton, Olney, Poolesville, Potomac, Reston, Rockville, Sandy Spring, Silver Spring, Spencerville, Sterling, Takoma Park, Urbana, Vienna, Washington Grove, West Bethesda, Westminster, Wheaton, Woodbine